Enjoy ocean level whale watching on our Explorer Super Rafts.

Our twin engine Explorer Super Rafts are very fast, comfortable and very stable vessels with an on-board restroom and give our guests more time to watch whales and less time traveling to and from our leviathan friends. Be a part of the action ? close to the water and the whales ? enjoy a truly remarkable experience with our Humpback Whales ? the leviathans of the deep.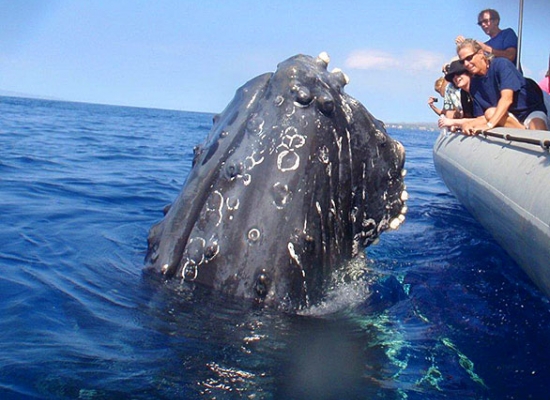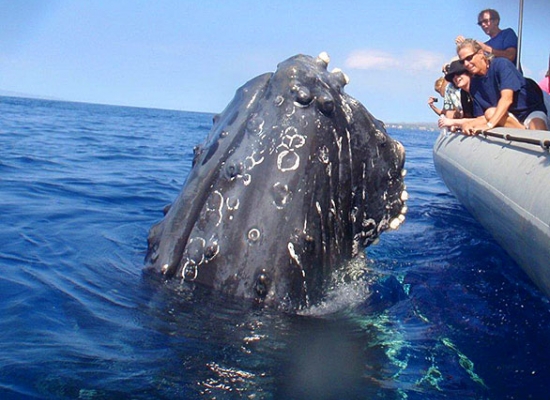 Whale Watch features
Up close and personal viewing ? our Explorer Super Rafts offer our guests ?ocean level viewing? of the whales, not 15 feet above the water as in the larger boats ? be close to the action and the whales.
Get a great view from every seat. Hear the ?songs of the Humpback Whales? from our Hydrophones and learn from local whale experts ? our captain and crew.
Learn and interact with narration by our always fun, always friendly experienced crew and marine naturalists.
Avoid the crowds of the larger boats, it is more fun to view the whales with a few friends rather than 100+ strangers.
We supply sodas, juices and bottled water. All of our Explorer Super Rafts are equipped with an on-board Restroom.
We are sponsors of the Hawaii Whale Research Foundation.
more
Time

8am, 10am, 12:30pm, 2:30pm

Checkin 30 minutes before tour time

Duration

2 hours

Location

Lahaina
Please view the cancellation policy and restrictions. You can find addition information in frequently asked questions
Cancellation Policy
A 24 hour cancellation notice in advance of the trip departure time is required for a refund. If an attempted cancellation is on less than 24 hours advance notice and due to a medical illness, a written statement from a local physician or medical clinic is required. A guest may re-schedule an excursion without a cancellation charge if the new excursion is taken within 72 hours of the booked excursion if space is available. Any price differential in the originally booked excursion and the re-scheduled excursion shall be paid by or refunded to the passenger as the case may be.
Last Minute Bookings
Please be aware that these bookings are subject to confirmation. If this is a same-day or next-day booking, there is a reasonable chance this will not be confirmed. For bookings that are confirmed, there will be no cancellations or refunds.
Restrictions
All activities are at your own risk, rafting is best suited for the physically fit, outdoor adventurer. We take no pregnant women or those with serious health concerns, recent surgery, or history of neck or back problems. Be aware there is No Smoking permitted on board the boat, or at the dock per State law.
Frequently Asked Questions
Is there a bathroom on board?
Yes, we are the only raft company on Maui with an on-board Marine Head.

Do you always see whales?
Between mid December and mid April we guarantee Whale sightings or the next whale trip is free until you spot whales with us.

When is whales season on Maui?
Whale Season is generally Between early December and mid April, although some arrive as early as late November and hang around through May.

What kind of whales do you see?
Our Whale Watches are geared to see Humpback Whales. We occasionally see Pilot Whales, False Killer Whales and other species, but it is a rare occurrence.

Do you have floatation devices?
Yes, we have several types of floaties including ?noodles?, life belts and vests.

Can I bring my camera?
Yes, we have a dry area to place them when the Explorer Super Raft is on the move and when conditions are wet. Also we recommend that our guests with cameras bring their own ?dry bag? or re-sealable plastic bag for the most protection.
Reviews
---
Jackie W.
There is no better way to go whale-watching than on a rib where you're down close and cozy with the whales. Captain Jay running the boat and Shannon are so...

Josh P.
This was a fantastic activity and highly recommended! Rode in the super raft with Captain Kiwi from New Zealand and first mate Dylon. These guys did an...

Matthew F.
Would highly recommend Raft Whale Watch after participating in there 2 hour Whale Watch out of Lahaina Harbor today. Steve, our naturalist guide was...